Richard Keith Frazine, B.D.
author of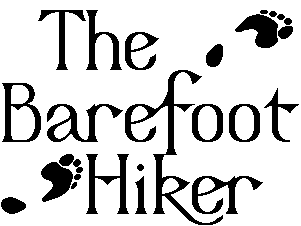 A Book About Bare Feet
and how their sensitivity can provide
not only an unique dimension of pleasure,
but also significant benefits in safety,
comfort, and confidence to hikers
who learn to rely upon them.
* * * * *
Ten Speed Press, Berkeley, California, 1993
ISBN 0-89815-525-8
---
See Barefoot Hikers International web site for cover photo and brief review.

See Barefoot Writers page for more background on the book.

See HTML version of the book.
---
Assuming, as I must, that most of those visiting this site will be barefooters and readers of my book, I shall try herein to answer the question: Who would ever write a book like this? Most of the following, therefore, is what I told prospective publishers on the "ABOUT THE AUTHOR" page of my original book proposal for THE BAREFOOT HIKER:

---
General Background
I was born in New York City at sunrise on 13 December 1947.

I hold both United Kingdom and United States passports.

I hold a Bachelor of Divinity degree from Kings College, London. In taking this degree in 1984, I was required to pass examinations in Latin, Greek, and Hebrew, as well as in English. Languages and Linguistics have long been of great interest to me. I can read Anglo Saxon, am fairly fluent in Polish, and can comprehend Spanish to an extent. I have also study'd reconstructions of the Proto Aryan Language. I have also made an extensive study of Calligraphy, and Palæography; and am well versed in Astrology. I was also once a professional Cartographer.
In matters of grammar, spelling, and punctuation, I am most influenced by the style of the 1662 Book of Common Prayer. I prefer an Oxford Dictionary. The modern writer whose style I like best is Elizabeth Goudge.

I had study'd Theology with the intention of becoming a priest of the Church of England, but it became apparent that as an Anglo Catholick, an absolute Monarchist, and a Reactionary Tory Paternalist, I was far too conservative for what the C. of E. was becoming at the time and was unlikely ever to be recommended for Ordination. My conscience has since forced me to flee the Anglican Communion and make my peace with Rome, and I thank God and the Saints that I was at last led to Sacred Heart, New Haven, which still preserves the traditional (Tridentine) Latin Mass. In terms of philosophy, I am most influenced by St. Thomas Aquinas and Bishop Berkeley.

My wife, Joanne, and my daughter, Elizabeth, moved to Connecticut with me in 1987, and my son Charles was subsequently born here. This move brought me into the family retail business wherein I was a shareholder and full time shopfitter, and much enjoy'd working with my brother Bob and sister Lynn until we were forced to close the business in 2009 and I was forced into an early retirement.

Jo and I bought the house at 50 Leigh Ave. early in the summer of 1992, while I was still working on THE BAREFOOT HIKER, but Jo had an experience later that same summer which converted her to Lesbianism, and she moved in with her girlfriend. She moved to Winstead in the summer of 1995. Charlie chose to stay with me in Thomaston, but Beth chose to move with her mother and go to school in Winstead. The situation continued to evolve in many ways, but I always had both my children here with me on weekends so that Jo could work the weekend nights, and they both grew up as quite regular barefoot hikers. Neither Beth nor Charles have marry'd as of yet, but thanks to Beth I now also have two granddaughters, Katherine and Isabella.
For the better part of twenty years I continued, as an observant Catholic, to regard myself as a marry'd man, even seeing myself as fortunate that my age made it fairly easy for me to accept the rather lonely life to which I assumed God were calling me. In the Autumn of 2011, however, I had an unexpected visit from a barefoot friend from the S.B.L.list who was in a very similar position, and in the months that follow'd it became apparent to both Karen and myself that God did not want us to be alone any longer, but intended instead for us to seek annulments from our long fail'd marriages so that we could begin a new life together. On the afternoon of 21 April 2014 we finally had a very private but joyfull barefoot wedding at Our Lady of Victory in Rochester, N.Y.and began the happy, but somewhat daunting process of consolodating our households.

---
Barefoot Hiking
My earliest encounters with barefoot hikers were in dreams which I remember having since I was 4 or 5 years old. In hindsight, I now see this clearly as the pull of Destiny; but at the time the pull was so strong that it generated a fear/fascination response that kept me quite decidedly shod for many years, during which I now realise that I had been far healthier, both in body and in mind, had I been going barefoot. Yet mistaken for a Siren though she may have been, the barefoot Muse who had met me in my childhood was unrelenting, and as I grew older she sent several barefooters to meet me in the waking world -- untill at last, at about the age of 21, I was persuaded to try barefoot hiking for myself. The Earth felt wonderfull under bare feet, and through the days and weeks and months of barefooting that follow'd, I was continually overwhelm'd by the joy of a calling heard at last. Not for many more years, however, until I was about 35, in fact, and already had quite a bit of grey hair, did I realise that the true fullness of my calling to be a barefooter could only come in sharing the joy of barefooting with others, as I now do through my book, through the Society for Barefoot Living, through the Barefoot Hikers of Thomaston, and through our growing network of affiliated Barefoot Hikers local groups. I also do whatever I can to encourage and facilitate the work of other barefooters, as can be seen in the advertisement that I prepared for my friend Susan Keane.
I have hiked, both alone and with various groups, over much of England, Europe, and North America, and have always done all my hiking, both summer and winter, in bare feet. I enjoy going barefoot year round, and have gone barefoot everywhere now since I have retired.
A photograph of myself with J.D.
taken by my daughter Elizabeth.
Button loads 67k full size JPEG image.
Updated 23 Jan, 2012
Richard Keith Frazine
50 Leigh Avenue
Thomaston, Connecticut 06787


home phone (860) 283-6594
e-mail to: mailto:bhthom@bhthom.org

SOLVE CALCIAMENTVM DE PEDIBVS TVIS
LOCVS ENIM IN QVO STAS TERRA SANCTA EST